Steps towards a new, Alternative Education
About
A primary school that aims to provide entire education in the light of Madhyasth Darshan – Coexistentialism has been started at VIP Road, Raipur and at Achotis Village, Durg called "Abhibhavak Vidyalay" or "Guardians School".
The schools currently have about 200 students from grades 1 to 10. Work is underway to have a school upto class 12.
It puts understanding ourselves, our lives, understanding reality, human relationships, and human purpose above the current emphasis on rote-learning, gathering information and skills.
The foundation will be on the basis of the understanding of reality on the basis of Madhyasth Darshan, while all the currently prevalent subjects will be taught in this light.
The teachers do not draw any "salary" for teaching or sharing this knowledge.
Note from the Teachers
Abhibhavak vidyalaya (Guardians school) is an earnest effort by parents and teachers to provide value education for consciousness development of the child. The objective of education is to make every child capable of living with coherence in all dimensions, be it realization, thought process, behaviour or occupation and at all levels i.e. individual, family, society, nation and inter-nation.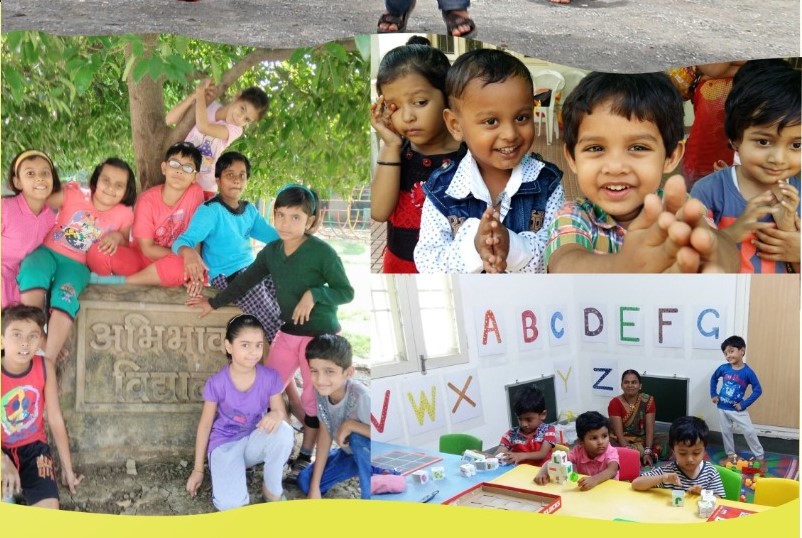 The responsibility to make the study successful lies with teachers, parents, education-content and education-procedure because these four are complementary. When teachers, parents and education system are in congruence only then it becomes possible to develop successful teaching methodologies by which the path of gratitude and co-existence gets paved. We feel that this integrated approach can help children understand their role without any contradiction. If education is logical, verifiable, holistic and universal it can satisfy every child.
Every human being wants to live with harmony from within and outside. This, in our belief, can only be achieved
if the child becomes proficient in knowledge, skill and behaviour as it leads to orderliness in one's living.
It's a step-by-step procedure which begins with identifying each and every relation and addressing them correctly, then identifying the values inherent in each relation for mutual fulfillment. Be it human-human relationship or our relation with nature, we need to study and understand how to live with all the units in this existence for co-existential harmony.
Whether we are learning different languages, mathematics, science, social science or any other subject, the goal of every human being is to live with resolution,  prosperity,  fearlessness and co-existence. This is what we need to accomplish with dedication and clarity in every child on our planet.
---
Education related resources (textbooks, guidelines, etc)